Why Co-Working Spaces?
Co-Working space – defined as membership-based workspaces where diverse groups of freelancers, remote workers, and other independent professionals work together in a shared, communal setting – is disrupting the workplace culture.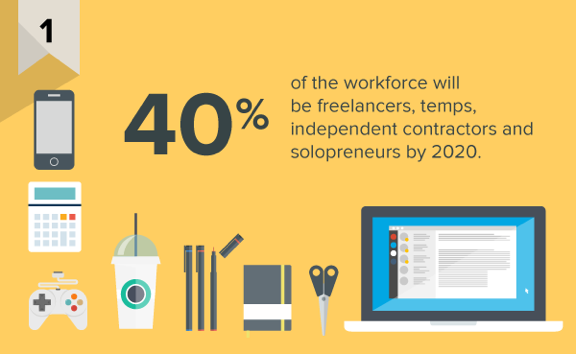 Original Infographic Content: 11 Incredible Coworking Statistics
With co-working startups valued in billions, it is not surprising to find new co-working spaces popping up in every nook of our cities. However, co-working spaces have many challenges yet to be solved.
Firstly, it is important to have the co-working space follow workplace safety standards defined by their local government. Secondly, it is vital for professionals and organisations to ensure that co-working spaces are productive workplaces.
Key challenges faced by Co-Working Spaces?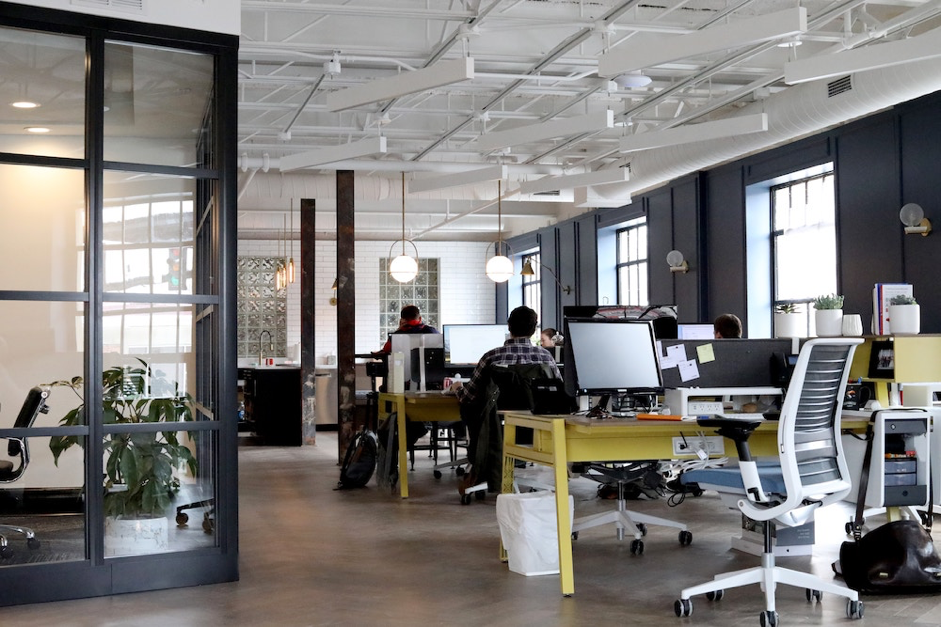 Five major challenges co-working spaces face:
Workplace Security: Unlike normal office spaces, co-working spaces are crowded with people who do not know each other or have no connection. Freelancers frequently opt-in and out of the space based on their necessity, hence it is normal to see new faces every day at the co-working space. Unauthorised access to the workplace puts people at risk.
Workplace Safety: It is the responsibility of the employer to provide comprehensive safety information about the workplace when a new employee is hired. But in the case of co-working spaces, there might not be an employer and the frequency of new members joining can be very intense, making it difficult for the space manager to have a one-on-one safety induction with everyone.
Workplace Productivity: With a diverse group of workers, comes unnecessary distraction and confusion. For example, uninformed events or parties in the workplace can hamper the productivity of workers. Other frequent cause of distraction can be the arrival of deliveries and visitors at the reception.
Internal Communication: In case of emergency situations, it is important for the facility manager to communicate with everyone who is at the workplace and guide them to safety. In addition, it is vital to keep track of everyone in the building and their current location.
Events management: Co-working spaces frequently host events and programs, which means managing the arrival of event participants. Their security concerns can pose a huge challenge to coworking spaces in the case of an accident or emergy.
Why install visitor management systems for Co-Working Spaces?
There are many types of workplace management software solutions available, however, visitor management systems are the most popular software used by office spaces to manage incoming visitors and workers.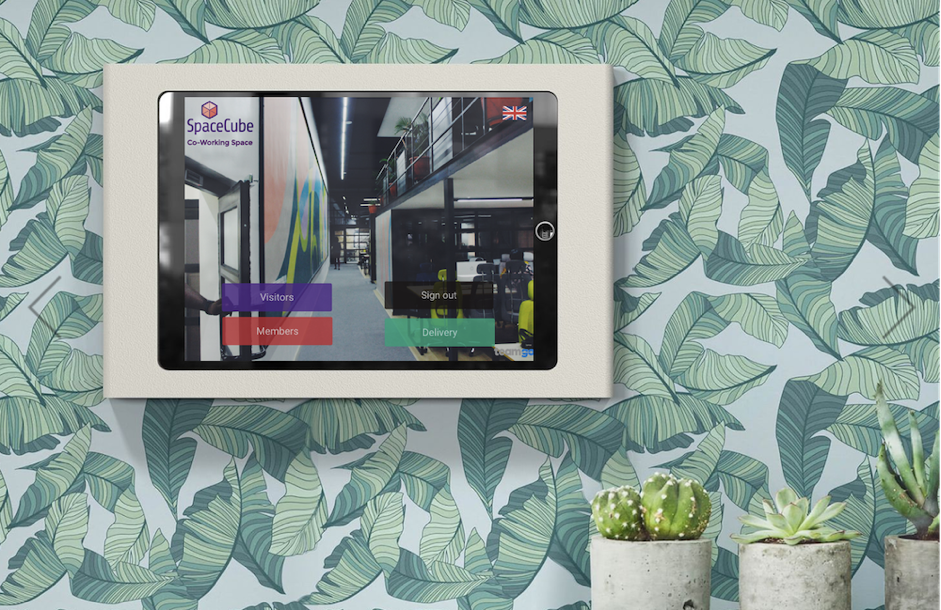 The basic features of a visitor management system include automated check-ins, visitor badge printing, and real-time monitoring of visitors on locations. More advanced features include dashboards, evacuation notification, customisable iPad terminal and sending meeting/event invites.
Visitor management systems for co-working spaces address all the five challenges listed above:
Keeping a check on unauthorised visitors.
Automating safety procedures and legal inductions.
Automatically notifying workers when a visitor arrives to see them.
Allowing administrators to send alert messages in case of emergencies.
Managing check-ins and check-outs of visitors.
10 features of Teamgo for your co-working space
1. Efficient and easy visitor check-ins and tracking
Teamgo provides a user-friendly iPad interface for taking visitors details like name, phone, address, photograph and details about whom they are meeting.
Freelancers and professionals who are members of the co-working space can use a QR Code, a badge or FaceID to check-in quickly, without any hassle.
In addition, you can use Teamgo's 'DELIVERY' sign in flow to allow delivery notification to be sent directly to the recipients.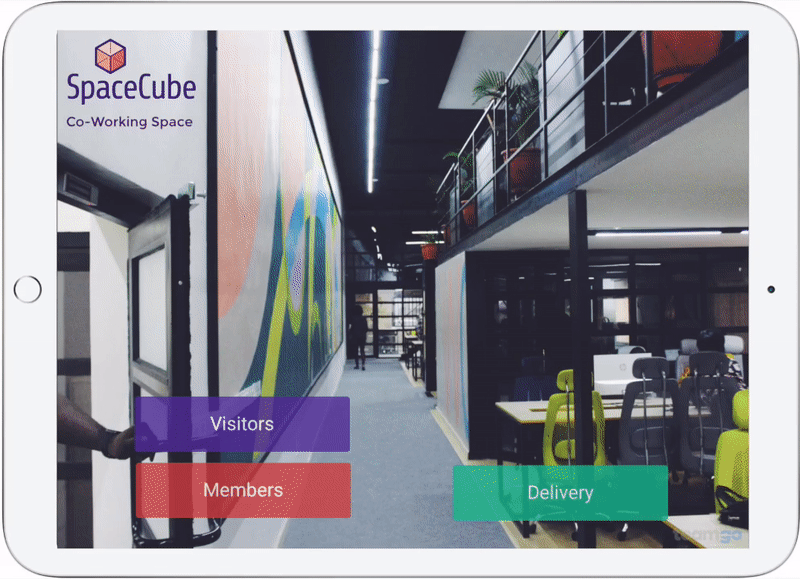 Teamgo's Delivery Notification Process
2. Customisable Offender Checks
Screening visitors, while they sign into the visitor management system, is the most important security feature necessary for co-working space.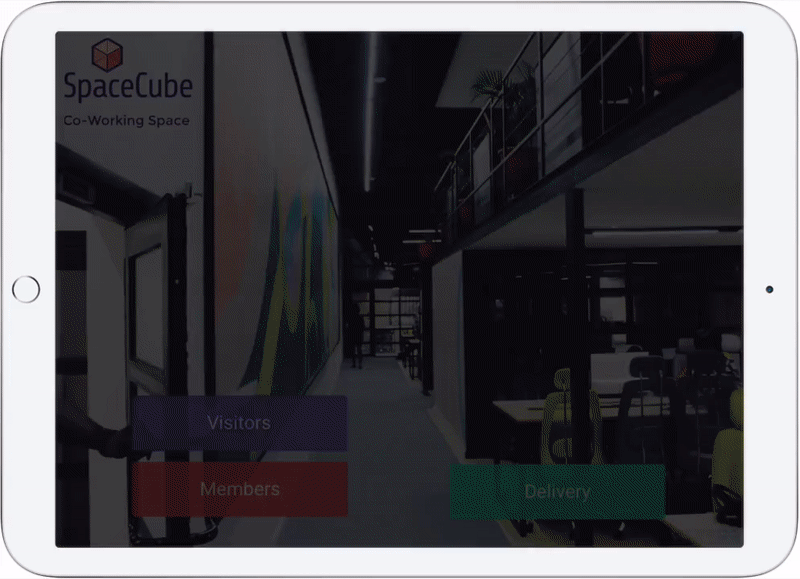 Visitor Screening Check on Teamgo
Often workplace accidents and breaches occur due to the lack of proper screening. Teamgo's visitor management app allows administrators to manage a list of offenders, which can be used by the system to check every visitors signing into the workplace and alert the administrator if an unwanted person tries to enter the co-working space.
3. Customisable Visitor ID Badge with an expiry date
Besides workers, co-working spaces are visited by event participants, clients or new members who are just checking out the place.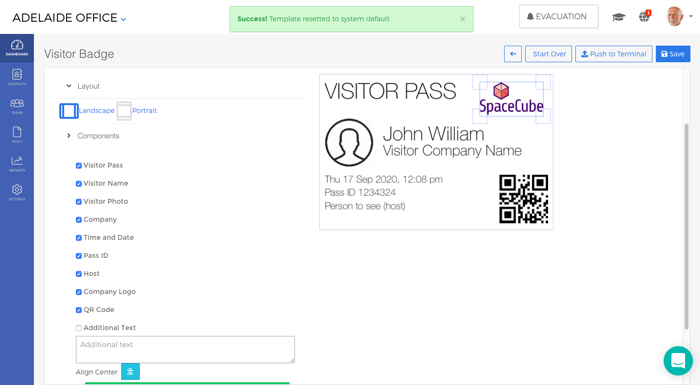 Visitor Badge Customisation on Teamgo
Teamgo can generate visitor ID badges with limited access permissions and expiry date. You will be able to customise and print the badge while the visitor signs in or email them before they arrive at the premise.
4. Emergency Mass Alerts
In the event of an emergency such as fire outbreak or any other kinds of accidents, you can send alert messages to everyone on the location using Teamgo's messaging feature.
The ability to send instant messages to all the people currently within the workplace can prevent disaster and guide people towards safety.
5. Induction and Policy Documents with Electronic Signature
Teamgo allows you to email all the required induction and policy documents to visitors before they visit the workplace or while they check in.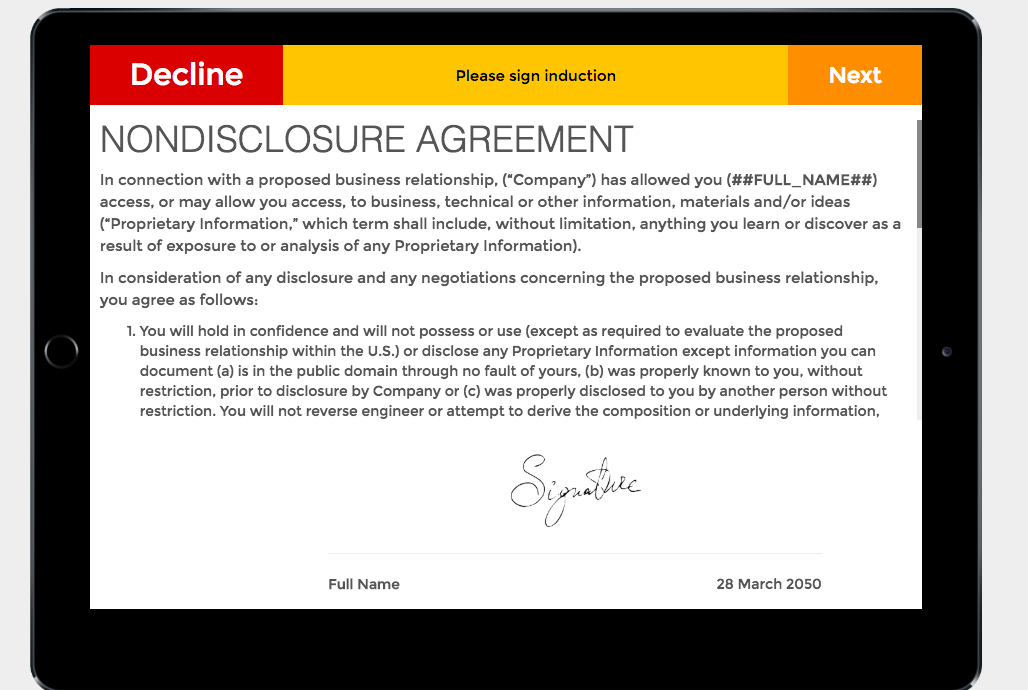 Visitors should be able to digitally sign the documents on iPad or any other digital interfaces. In addition, you can edit your induction and legal documents and make changes whenever you want to from the web interface.
6. Location-based Web Reporting
Teamgo allows you to access a web-based platform where you can view all the reports on visitors activities.
Teamgo's web-based report provide insights such as:
A list of current sign-ins to the co-working space
Access details about all the visitors
A trend graph of the number of people visiting the co-working space
Access to view visitors across different buildings in real-time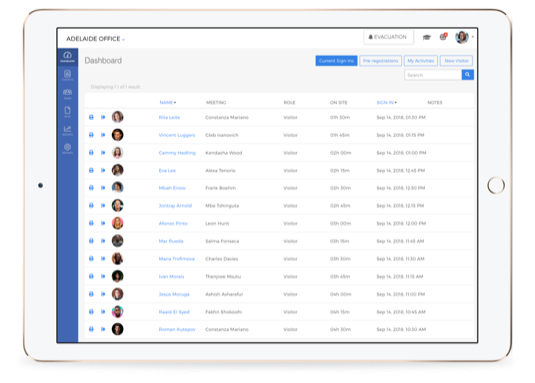 Teamgo's Reporting Dashboard
This feature comes in handy if you have co-working spaces in more than one location. In such a case, you can manage your iPad terminal across all the locations from a single web browser interface. You can compare which co-working space is doing better than the other in terms of traffic and new member sign-ins.
7. RSVP
During events and parties organised at your co-working space, you can use Teamgo to send an invite containing a QR code to all the participants. Hence, when they visit the place, you simply have to use the QR code to sign-in to the workplace without waiting in a line.
Along with inviting, you can also send the induction documents to the visitor so that they can read your guidelines before they visit the place.
8. Customisable Terminal Design and Visitor Badge
Teamgo provides an advanced option to customise your visitor management terminal and create your own visitor sign-in flows.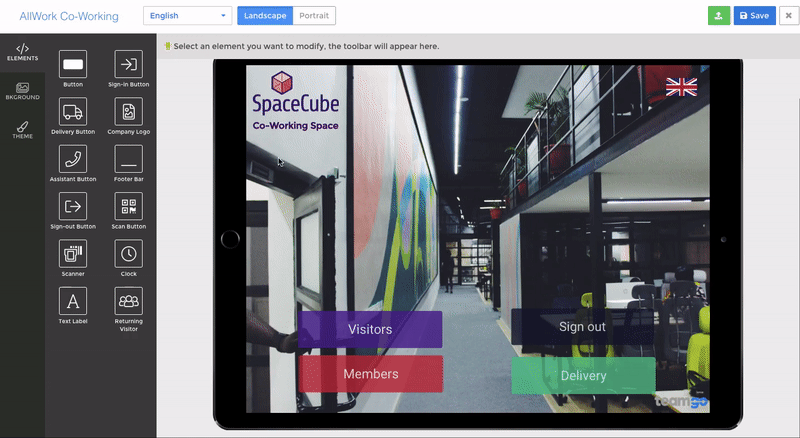 Customising terminal on Teamgo is as easy as drag and drop
Basic functionalities such as changing the colour of the terminal or adding your own logo on the interface are available out of the box in Teamgo. You can also design your own visitor badge.
9. Data Integration with different systems
In addition to all the above features, Teamgo allows you to integrate your visitor management system with other systems within your workplace.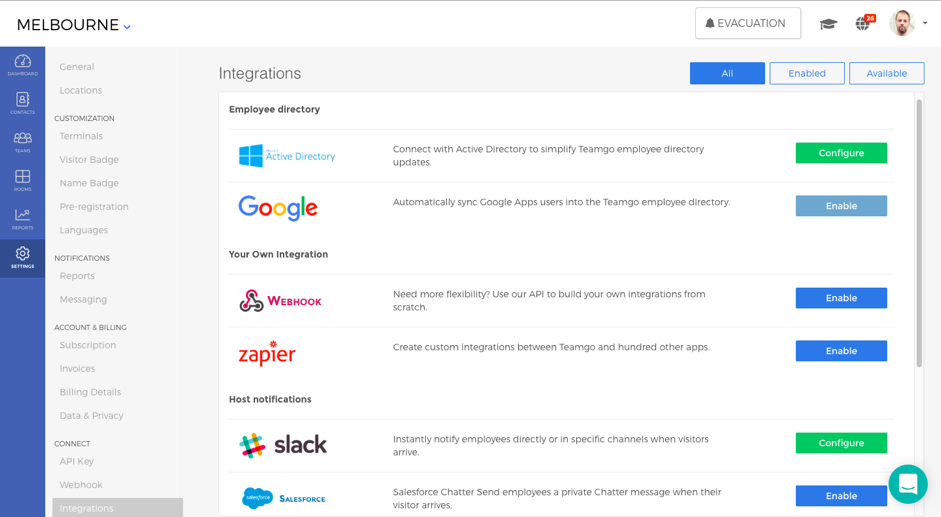 Screenshot of Teamgo's Integration Module
For example, you can integrate Teamgo with Slack, so that it can be used as a notification channel for workers and visitors. Or you can also choose to integrate with your event management portal so that you can use Teamgo to send invites and QR codes.
10. Data Security and GDPR Compliance
GDPR (General Data Protection Regulation) is the most important change in data privacy regulation in the EU since 1995. The new changes have a huge impact on businesses that gather and process personal data, like a visitor management system. Therefore, you are legally obliged to ensure that your visitor management system is GDPR compliant.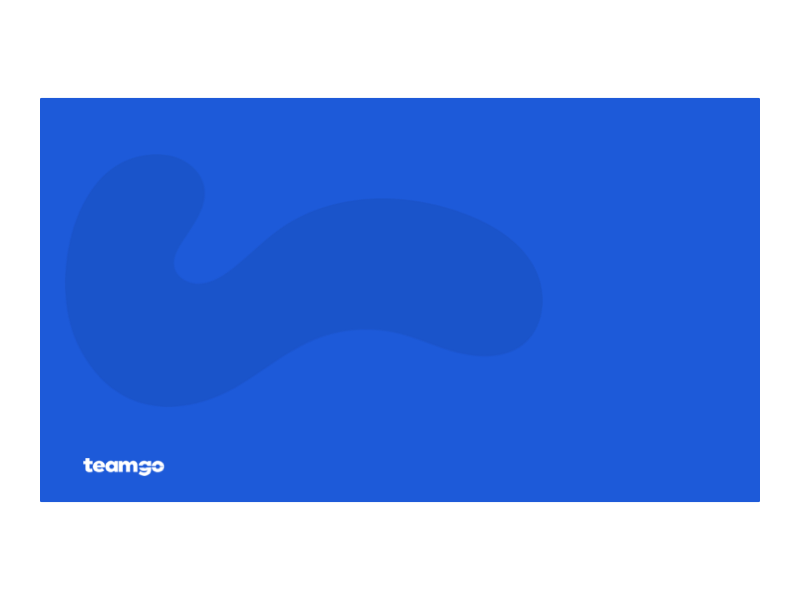 Teamgo complies with all the terms and conditions GDPR and abides by the laws to safeguard the privacy and security of visitors data. You can change the settings of the system to delete or anonymise visitors data after a certain period of time automatically, or chose to delete it manually whenever you want to.