Hands up if you are currently listening to a podcast!
Podcast popularity has undeniably grown in the last few years. Just in the U.S., listenership double between 2013 and 2017. And it's no wonder that's the case.
Research says that we will have accumulated 40 times more bytes of data than there are stars in the observable universe by 2020. With this massive amount of information being produced, business leaders need a quick and convenient way to stay relevant.
Our crazy-busy lifestyle combined with the information age requires us to continually update our knowledge. But, at the same time, we lack the time to do so. Until… the podcast.
Podcasts have become so popular because they enable us to maximize the usage of our time, making otherwise unproductive time, productive. They are an easily digestible source of information which allows multitasking while listening. In fact, 22% of podcast listening is done in the car.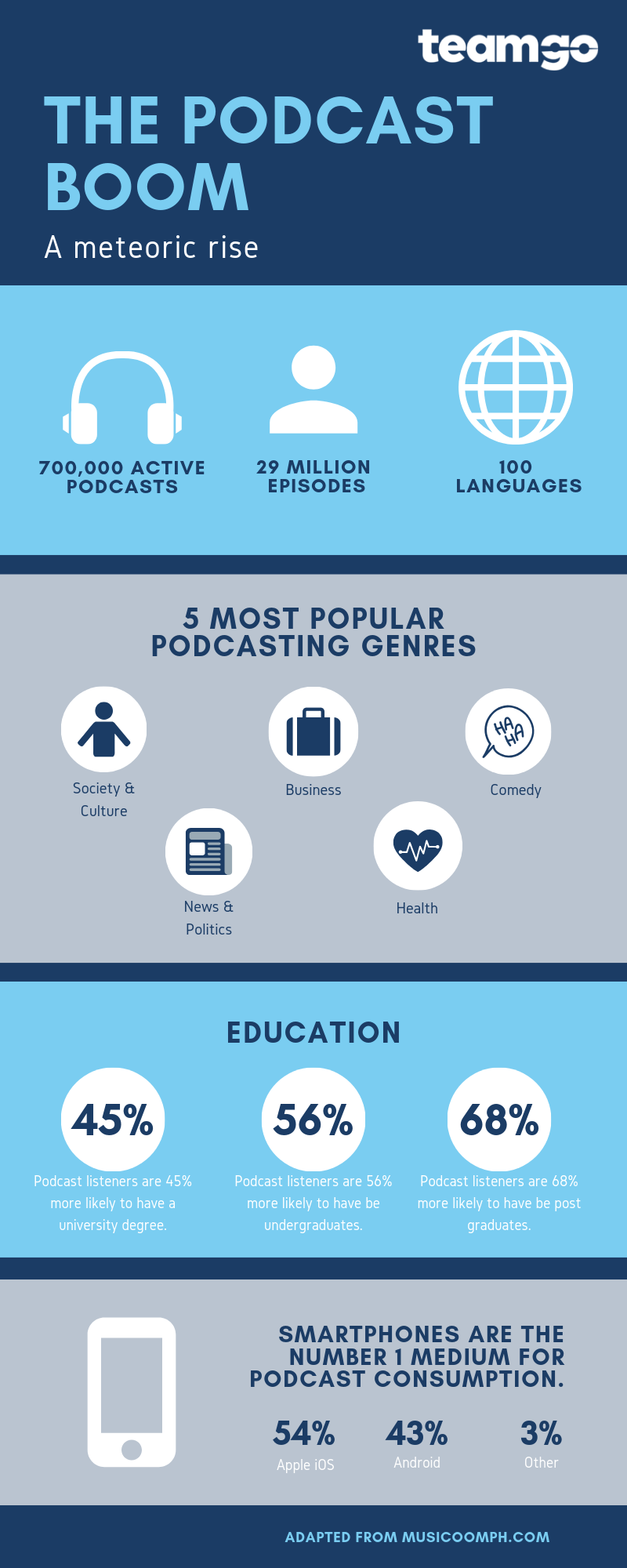 So, without further ado, here's a list of five podcasts that the modern workplace leader should be listening to:

The Future of Work is the podcast branch of the website The Future Organization, by Jacob Morgan. Jacob is a definite leader when it comes to the future of work, employee experience and the evolving workplace. A keynote speaker, best-selling author and futurist, Jacob has advised many business leaders and organisations across the world. His podcast is a weekly release where he interviews senior executives from prominent organisations to discuss anything workplace. You will find topics like workplace tech, artificial intelligence, analytics, employee happiness, leadership, workforce trends, thinking styles and much more.

The Workplace Innovator Podcast (formerly FM Innovator Podcast) is delivered by iOFFICE, a provider of workplace management systems. The Workplace Innovator Podcast is hosted by Mike Petrusky, a speaker, entrepreneur and Director of Events & Marketing at iOFFICE. The show is geared towards facilities managers, IT and HR leaders, where Mike approaches topics like using tech, talent and tenacity to create the best workplace possible. New episodes come out every week and most include interviews with experience facilities management and corporate real estate professionals.

The Modern Workplace Podcast is an initiative by Microsoft which dives deeper into the topics covered by the Microsoft Modern Workplace Webcasts. This podcast is quite technology-driven, more specifically, approaching the intersection of technology and business. Each episode includes an interview with an entrepreneur, visionary, industry expert or thought leader. People who really know their stuff. Themes include data protection, cloud migration, GDPR and the new culture of work powered by millennials.

HR Leaders Podcast is the podcast branch of the cross-industry learning community for HR practitioners, HR Leaders. As the name clearly suggests, this daily show is geared towards HR/People and Culture executives. In each episode, host Chris Rainey collaborates with HR executives and thought leaders from the world's leading global brands. The interviews approach each interviewee's personal journey, experience, lessons learned and draws valuable insights. Some of the topics talked about include creating a workplace culture, the use of workforce analytics, learning & development in the workplace and how to include diversity in the workforce.
Masters of Scale is a podcast by the Silicon Valley investor/entrepreneurs and LinkedIn co-founder Reid Hoffman. This is a much lighter and casual podcast than the previous ones, but which still delivers great value. In fortnightly episodes, Hoffman interviews (although they feel more like conversations) famous company founders and fellow entrepreneurs. Guests include Facebook's Mark Zuckerberg and Sheryl Sandberg, Netflix's Reed Hastings, Google's Eric Schmidt, Spanx's Sara Blakely, Uber's Dara Khosrowshahi and many more.
So here you go, five new podcasts to burn through on your drive to work, while you run on the treadmill or while doing house chores.
What is your favourite podcast? Or what podcast are you listening to at the moment?

Let us know by tweeting at us now!