You're going to a meeting at someone else's office. You walk in the door and the first person you see is the receptionist. They greet you with a smile and warm welcoming words. Their hospitality starts you off on the right foot and sets the tone for a delightful and memorable visit.
Receptionists are often the unsung heroes of the corporate world, who ensure the office runs smoothly. They are the ones enabling everyone to get their job done while also handling visitors and making sure their needs are fulfilled. Receptionists are versatile professionals that can multi-task like the best of us and are probably the ones you go to if you ever need anything.
With the rise of workplace technology, the receptionist's role has changed through time, but one thing remains the same: the need for human touch and a people-centric approach to visitor management. I dare say that in a world where everything can be automated, face-to-face interactions are more important than ever. After all, the first impression is the one that counts and has a lasting impact on the business.
So, today, on International Receptionist Day we want to give a massive standing ovation to receptionists and promote their appreciation within the workplace.
International Receptionist Day was created in 1991 to:
– "Foster a recognition of the importance of a receptionist's role. They are usually the first person a customer or client meets when they visit a company."
– "Promote pride and professionalism amongst receptionists for the important role they play within an organisation."
– "Give receptionists an opportunity to share stories and link up with other colleagues around the world."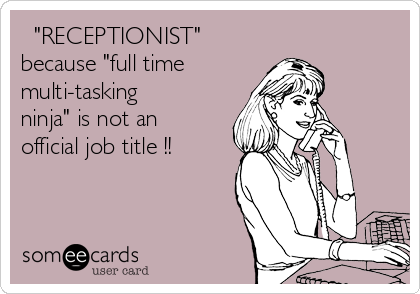 Source: Someecards/ Created by: NALMAND
This 8th of May we want to talk about how the receptionist's role has evolved and what part technology's plays in the modern receptionist's life.
A bit of historry
Let's take a trip down memory lane. The receptionist role was birthed in the early 1900's and gained power during World War II. Traditionally, a role assigned to females (although today, that is not the case), receptionists were among the first women to make the shift from homemakers to workers, bringing in a second income for their family.
In the first few decades, the receptionist's job comprised answering the phone, entering data, typing, setting appointments, record keeping, filing, sorting through the mail, faxing, and obviously greeting visitors. They were the face and voice of the company.
As time went by and the technological revolution came storming upon us the reception was invaded by a myriad of tech solutions. Cloud managed file storage systems, online calendars, chatbots and visitor management systems changed the receptionist's role, responsibilities and skill set forever.
Technologies such as visitor management systems have freed up a lot of time for receptionists. They no longer need to go through the hassle of manually entering a guest's details into a system, phone the person they are there see and chase after them if they're not at their desks. However, because they have more time in their hands, it is expected that they take on other tasks and deliver a high-level of service.
Nowadays, the receptionist's role is far more similar to that of an office manager. They are expected to make sure office supplies are topped up, organise corporate functions, coordinate meeting rooms and perform administrative functions as well as provide a personalised service to visitors and guarantee an excellent experience.
Because of that, the skills required of the receptionist have moved from a solely customer service to a broader skill set. That encompasses excellent time-management, outstanding interpersonal and communication skills, efficient organisation, exceptional technical and digital literacy, extreme independence and proactivity, and attention to detail. They are not necessarily the young and inexperienced receptionist you met in the 90's. They have evolved with the times and become a more senior employee.
The modern day receptionist, empowered by technology and even more valuable skills, has double the potential they had in the past. So take a moment and appreciate the person who makes all first impressions count.
Happy International Receptionist Day!
Are you a receptionist looking to pitch an easy front desk solution to management? Learn more about Teamgo!
Already know all about it? Start a free trial!