International Women's Day is a symbolic date in women's fight to bridge gender disparity. Created to celebrate women's social, economical, cultural and political achievements, March 8th is a catalyst for raising awareness and advocating for women's empowerment.

The technology industry is generally a male-dominated field, with only 18% of technology jobs being held by women, according to a study done by Entelo in the United States. The gender gap only increases as you go up the corporate ladder, with only 5% of leadership roles in technology belonging to females, according to data from PwC UK. That has many causes, but one of the main reasons for the gender gap is that women are usually not encouraged to pursue a career in technology. According to the same study by PwC UK, girls are less incentivised to take STEM (science, technology, engineering and mathematics) subjects both through school and university and only 3% of females have technology as a first choice career, compared to 15% of males.

To put things into perspective, we asked iOS developer, Emily Fung, about her experience working in the tech field. Emily is the only woman in a team of 3 developers and thinks that the gender bias in the field has become less evident, but is still there. She says that "males have been dominating the technology field for such a long time that the industry's mindset is still that "I should probably trust a guy on this rather than a girl, because guys probably know more about technology." Fung believes that gender diversity can improve collaboration and alleviate conflicts, as women and men have different personality and behavioural traits that can compliment each other in a team environment.

Therefore, to praise the importance of women in technology and leadership roles and promote female representativeness in the industry, we've short-listed four inspirational women to watch in the tech sector, based on Forbes' 2018 The World's Top Women in Tech list and Inc's 2017 30 Women to Watch in Tech list:

Al Sharif is a Saudi Arabian born computer scientist and women's rights activist, who became known after posting a video of herself driving a car through the streets of Saudi Arabia, where women were not allowed to drive. This resulted in her being put in jail for nine years, but also ignited a large women's rights movement in Saudi Arabia. Al Sharif was the first woman to specialise in cybersecurity in her country and is the founder of Women2Hack Academy , a program that focus on incentivising Saudi Arabian women to enter the tech world, especially IT.

Maru Nihoniho is a New Zealander game developer whose work has grabbed the attention of the world, earning her several prizes. Her games are designed to address the mental health issues of young people, with a special emphasis on the Māori "rangatahi" (youth). Not only is Nihoniho helping people to overcome issues like depression, but she is also raising the awareness about the indigenous communities of New Zealand. Some of her work include SPARX , which was designed to help Maori youth overcome depression and won the "2011 United Nations World Summit Awards and the 2013 UNESCO Netexplo Award in 2013"; and Tākaro, a game made to motivate "rangatahi" to engage in STEM, and contributed to Nihoniho's win as "Innovator of the Year in the 2017 MCV Pacific Women in Games Awards from Microsoft Xbox."

Bryant is an electrical engineer, founder and CEO of Black Girls Code, a non-profit organisations that aims at increasing the representation of women of colour in the tech fields. Founded in San Francisco, in 2011, the project aspires to awaken these girls' interest in STEM and empower them to become innovators, leaders and build their own future through computing. Black Girls Code teaches girls basic computing, app development and robotics skills. This program has gained Bryant a "Jefferson Award for Public Service" and "she was also honoured by the White house in 2013 as a "Champion of Change for Tech Inclusion." The organisation intends to train one million black girls, aged 7 to 17, by 2040.

Baker is currently serving as a Principal Group Engineering Manager at Microsoft, just another of several other impressive roles she has accumulated in her CV, having passed through companies such as Google, Slack, and Patreon. She is an advocate for the inclusion of women and minorities in STEM fields, and works towards changing corporate culture to become more embracing of underrepresented groups. Baker is also one of the founders of Project Include, a program that focuses on promoting meaningful diversity in the tech industry and a board member of Girl Develop It, a non-profit organisation that provide affordable and judgement-free training for adult women of diverse backgrounds who want to learn web and software development.
 
Closing the technology gender gap is not only important to guarantee equality in the industry, but also to promote greater human development. As reported by the European Commission, having more women in technology roles could help boost the EU's GDP by €9 billion a year. The Credit Suisse Gender 3000 Report shows that "companies with a greater board gender diversity have higher stock market returns adjusted for sector bias, as well as higher valuations and payout ratios", as written by Gillian Tans, CEO of Booking.com, for the World Economic Forum.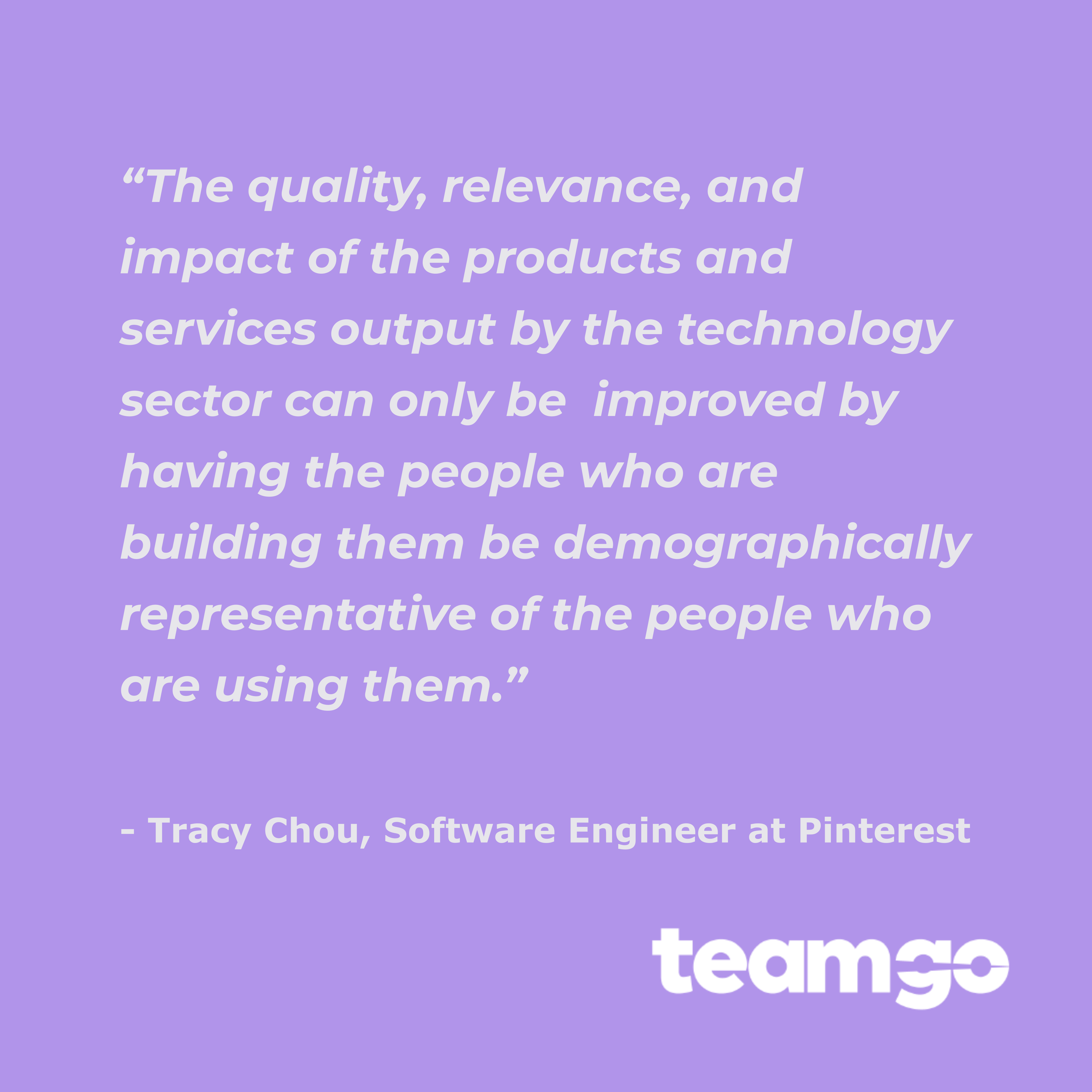 The women listed above are just a small fraction of the female talent currently present in the tech world. Their achievements and contribution to the industry are proof that we can all benefit from having more diversity in the industry.
 
Happy International Women's Day from all of us at Teamgo!