At Teamgo we truly strive to create the products that best serve our clients from a wide range of industries. We are constantly working with our clients to improve the products we offer and implement regular updates to ensure it is performing at its best. But don't let our opinions sway you on some of the features of our products – hear it straight from our clients!
Feature One – Visitor Information Confidentiality and Data Sovereignty
One of Teamgo's highlighted product features is the ability to keep visitor information confidential. That gives customers the comfort of knowing that their information will remain in Australia and will not be passed onto any third parties.
"Security is a paramount priority at Teamgo. From how we develop our solutions to the transference of data between systems, we continue ensuring standards are maintained and access to information is restricted." – Steve Barrett, the COO of Teamgo
This is a fundamental aspect of our product and at Teamgo we are proud to guarantee that customer data is safely and ethically stored. The concept of data sovereignty says the use of that data is bound by the laws of the country in which it is located and not where it is collected.
Sue Morris, PA to the Region Director of West Landmark, highlights this feature by saying that
"visitor information can now be kept confidential, a problem we had in the past before using the app".  


The data that you keep on your clients is arguably the most valuable asset you own, so it is crucial to keep that data in a secure location. The concept of data sovereignty says the use of that data is bound by the laws of the country in which it is located and not where it is collected. Therefore, when choosing a Visitor Management System, it is important to check where your data will be stored and the legislation of that country to ensure the integrity and confidentiality of it. 
At Teamgo we store customer data within Australia, where data legislation is strict and standards are high – all of that to guarantee that your information is safe. 
Feature Two – Ease of use
Ease of use and hassle-free product implementation are two other features highlighted by Teamgo's clients. Sophia Fraser, CDSO of the Aldinga Community Centre, endorses our product as being
"relatively easy to use [and we] love the ability to provide volunteers with badges to swipe in and out. [The] log in and out process is simple and able to be used by all users of our Centre [and we] like the options of multiple terminals". Overall it is "an easy and efficient system able to be used by all who attend".


Teamgo provides an easy and convenient registration system which can be used for every day sign-ins at the office as well as for specific events. 
Aaron Blackman, Senior Systems Engineer at iiNet, reinforce these comments by saying that 
"The product was easy to implement and the assistance we received from Teamgo was excellent."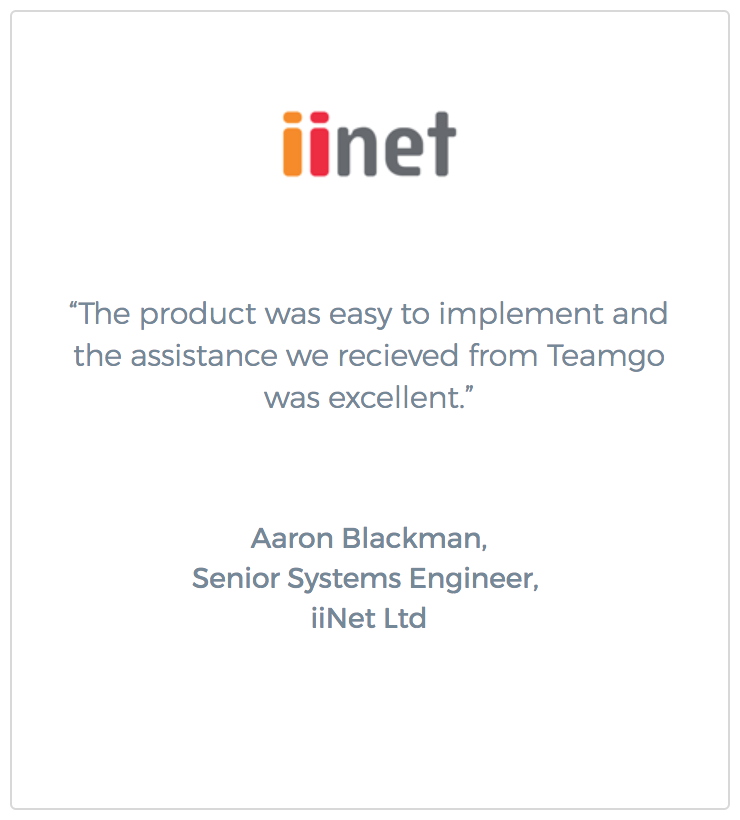 Feature Three – Efficiency
In a world that is so conscious of being environmentally friendly, our system allows companies to become paperless by providing an efficient digitised system. With clients from St Edmund's College to the Crown, our customisable product suits many industries.
Rebecca Wilson, the receptionist at St Edmund's College, praises the efficiency of Teamgo in emergencies and evacuations, and the ability to have a paperless sign-in and sign-out book. They now use "less paper [as they] no longer need to order paper sign in books."  St Edmund's College is also "more efficient for emergencies and evacuations" with the implementation of Teamgo and can ensure the safety of their students and staff.



Through the implementation of Teamgo, Greg Facer, General Manager of Crown Insite, has commented on their ability to become more environmentally friendly and efficient. Facer added that
"[they] needed to modernise [their] paper systems. [He] looked at about 6 solutions and found Teamgo to be the best fit".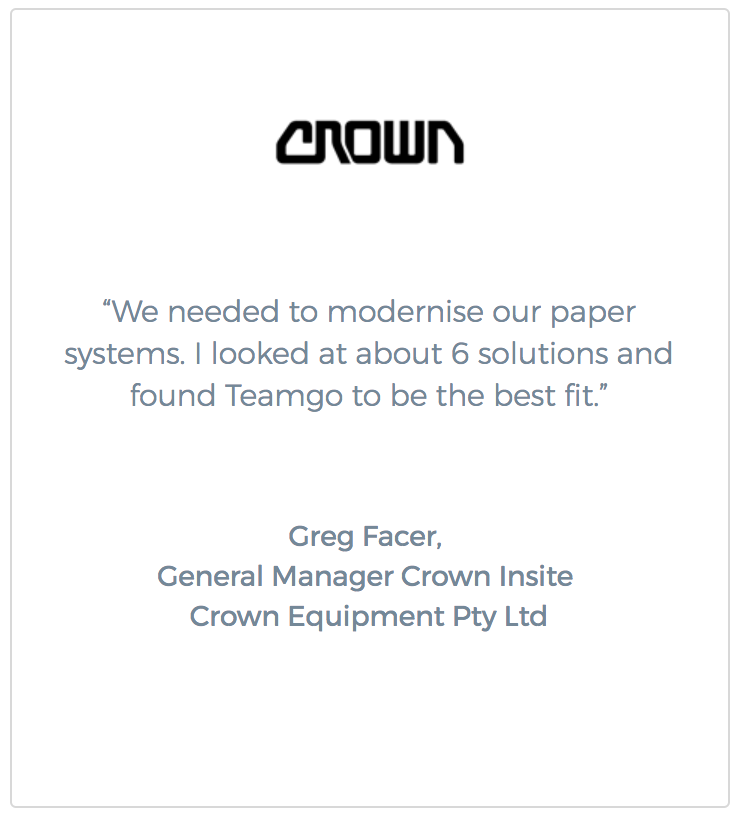 Conclusion
These client testimonials emphasise Teamgo's ability to be among the best in the industry, providing a range of features including visitor information confidentiality, data sovereignty and ease of use, creating a more efficient organisation and workplace. To read more client testimonials on Teamgo click here.
With our fully customisable systems, Teamgo is the perfect fit for many different industries, and we are constantly working with our clients to ensure we provide the most updated and functional system to improve efficiency and help the environment. To find out if Teamgo and our adaptable products and features are the perfect fit for your organisation, please book a demo with one of our specialists here or join up for a free trial here.