According to Harvey Nash/KPMG CIO Survey 2018, 40% of Australian Chief Information Officers (CIOs) reported low overall effectiveness levels in their digital strategies.
Despite the fact that 66% of Australian CIOs reported having a clear strategy either enterprisewide or within business units, CIOs seem to have struggled to use digital technologies to achieve business success.
Based on various reported interviews with leading professionals, analyst reports and tech journals we have put together 5 major challenges Australian CIOs are facing.
1.Driving Innovation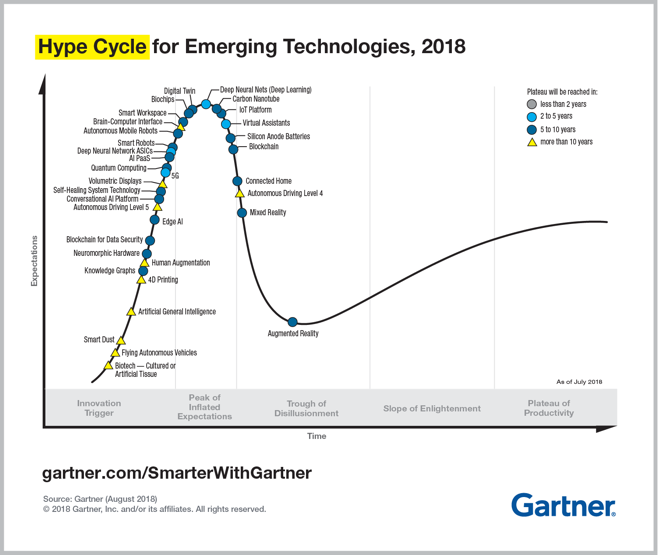 A few years back, everyone was talking about cloud computing and big data analytics, but now the point of interest has changed to AI, Machine learning and blockchain technologies.
If you look into the Gartner's hype cycle for emerging technologies, 2018 you will notice blockchain for data security, conversational AI platform, Deep neural Network ASICs and Smart workplace as emerging technologies that are reaching at the peak of inflated expectations.

This rapid change in technologies is causing difficulty and urgency in making decisions on investing in the right technology and driving innovation.
"There's no singular lens," says Anthony Molinia, chief information officer at The University of Newcastle. "We look at innovation in terms of driving a competitive advantage through emerging technologies like augmented reality and virtual reality and blockchain [and using these] to bridge environments together." – [Source: CIO Australia – State of CIOs in 2018]
2.Data, Privacy and Compliance
Customer data privacy is the biggest challenge for CIOs who need to make sure that all the implemented technologies are compliant with the government's rules and regulations. Based on the global survey results, more than 38 per cent of CIOs are not confident in becoming GDPR compliant by the 2018 deadline.
With tech giants like Facebook, Google, and Apple regularly being scrutinised of governments from different countries, it is becoming difficult for CIOs of large corporations to trust technologies that store personal information of customers.
3.Cyber Security
There has been an increasing threat of cyber attacks on infrastructure that store a large amount of personal and financial data. It has become common to read news about leaked email ids or hacked account which has gone rogue on social media.
"Digital security ranks high on the CIO agenda as 35 percent of respondents said they have already invested and deployed some aspect of digital security, and 36 percent are in the process of planning to implement some form of digital security," said Andy Rowsell-Jones, Gartner VP (Gartner CIO Agenda 2018)
4.Skill Shortage
There is a huge gap between the availability of new technologies and the skills required to implement them successfully. No wonder, so many CIOs are finding it difficult to execute their digital strategy successfully.
"I think the biggest challenge over the next five years is not how we leverage cloud, it is not about how we leverage big data, it is how we build the skill sets in when we can't just go to market and get them." – Dave Curran, Westpac group CIO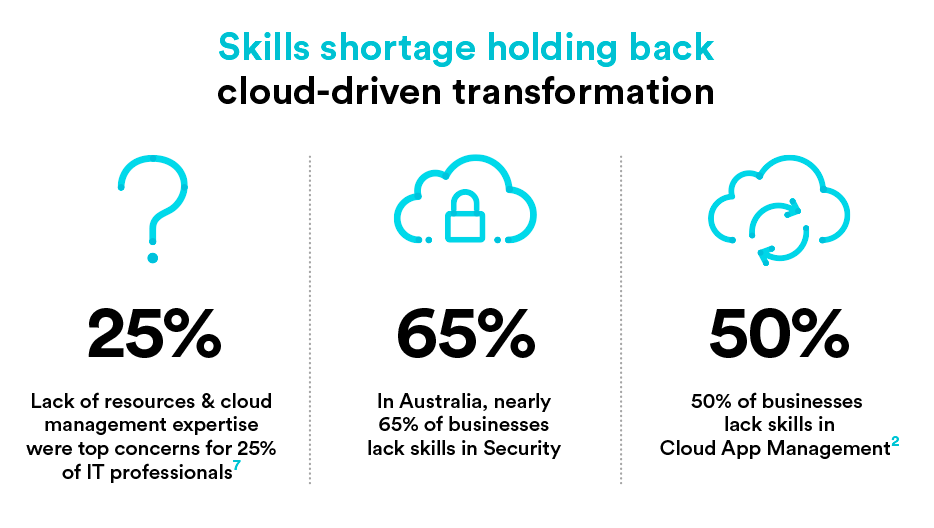 Source: Keys to a successful hybrid cloud migration – Infographic
5.Change in Responsibilities
Traditionally, the IT department has always been delivering support and implementing systems to automate and digitise the business functions. As a result, CIOs core responsibilities included delivery rather than executive leadership.
But, now we have the mandate of digitisation and innovation handed over to the CIOs. This means CIOs will have to balance between old responsibilities and new ones.
Over 84 percent of CIOs surveyed said they now have responsibilities well outside of "traditional IT", most commonly innovation and transformation, with performance metrics increasingly based on business outcomes over IT delivery. [Source: Gartner CIO agenda 2018]
Source: Keys to a successful hybrid cloud migration – Infographic