Keep your people and property healthier.
Using visitor management software you can build safer, contact free check-in options that don't compromise on the safety and security goals for your workplace compliance.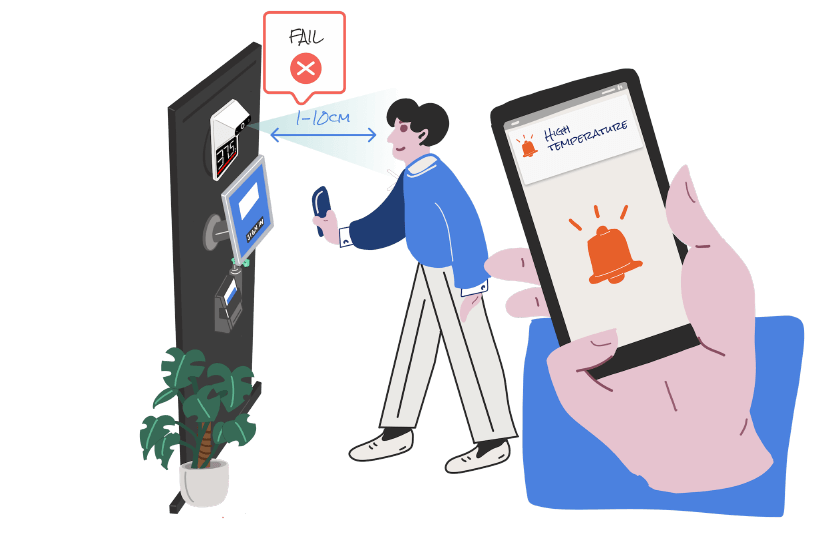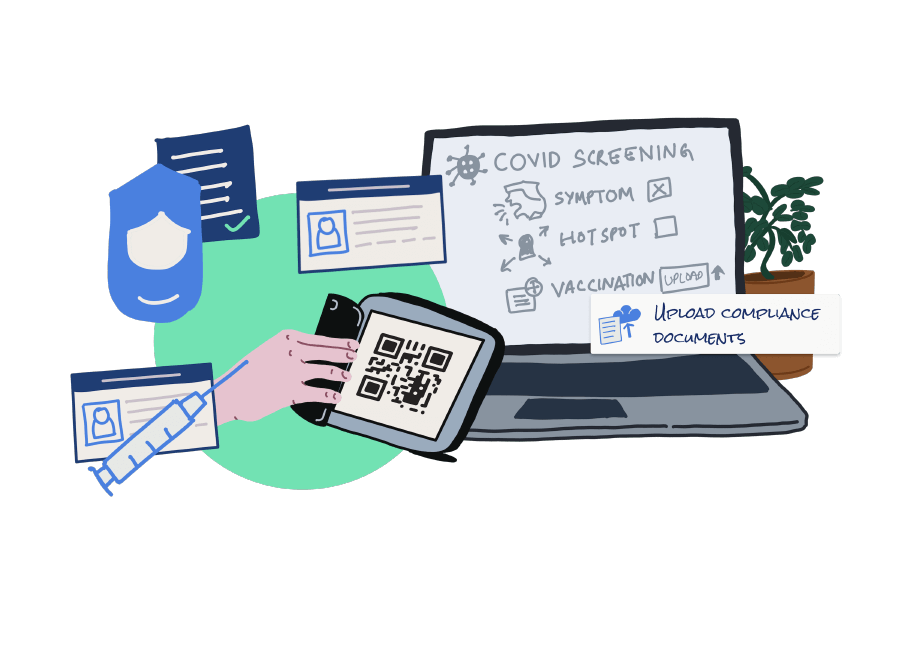 Stop critical health events at the front door.
Setup your sign in points to request important documents, certificates and licenses from your visitors to keep your compliance in check and workplace safe from security and health risks.
Teamgo Bluetooth Thermometer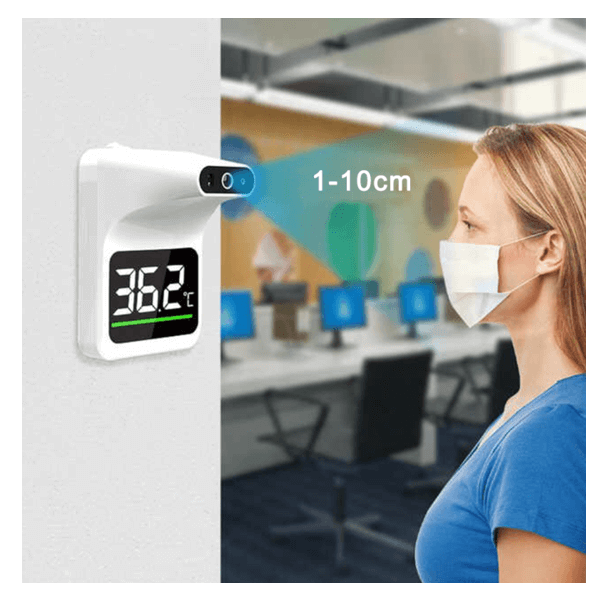 Non-contact
Works from 1-10cm away from device for forehead scanning of temperature using a safe digital infrared camera.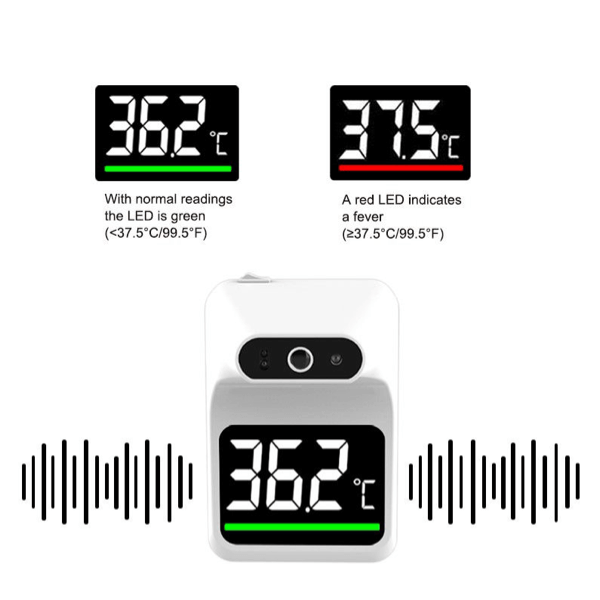 Audio Alarm
Built-in alarm with loud single "beep" tone for safer temperature and 10 loud "beep" tones for irregulare temperature.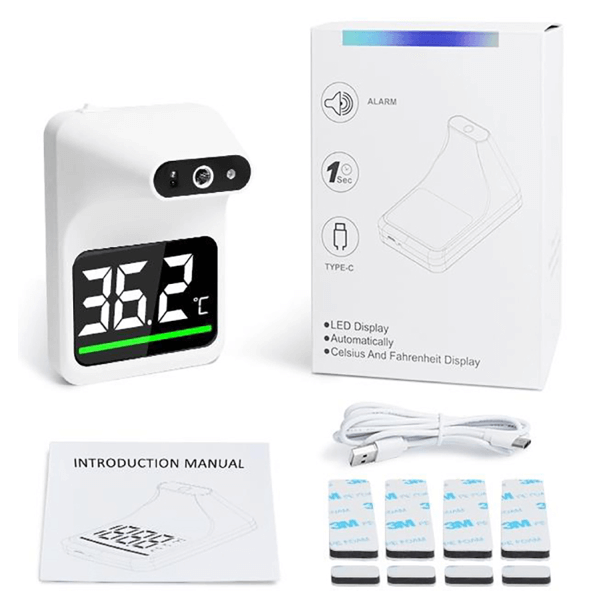 Complete Package
The Teamgo Bluetooth Thermometer package contains everything you need to setup and install the device.
About The UFR
Non-Contact infrared body temperature measuring device for automatic hands-free body temperature screening and high temperature detection. Fast and accurate body temperature detection, high temperature Alarm, Bluetooth, iOS and Android App.
Handsfree & Non-contact
Wall mount, Hands-Free, Non-Contact infrared body temperature measuring device for fast and accurate temperature screening. Takes temperature in Celsius or Fahrenheit in just 1 second.
Bluetooth
Connect to Teamgo iPad Kiosk App Thermometer connects to dedicated iOS and Android App on smart devices via Bluetooth BT5.0 wireless connectivity.
High Temperature Alarm
10 short beeps with red LED when measurement reading is greater than or equal to 37.5 degree centigrade
iOS and Android App (Optional)
iOS and Android App records and displays Live & Historical temperature measurement record which can be shared and exported. For user in other practical purposes, not just for connecting with Teamgo visitor management.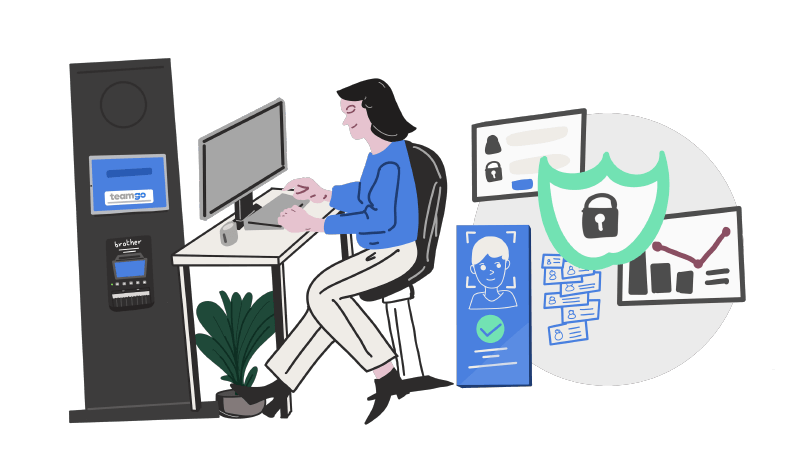 Streamline sign-in processes with safe and contactless QR codes. Enjoy the flexibility of QR code posters, iPad kiosk scanning, and a user-friendly app for convenient sign-in options.
QR code posters for self-service sign-in on mobile devices (web sign-in).

Visitor and User QR codes for fast sign-in and input of user details on the iPad kiosk camera.

Teamgo Pass user app with personal QR code and remote location-based sign-in for smartphones.

Simplify and enhance the sign-in experience while ensuring safety with secure QR code technology.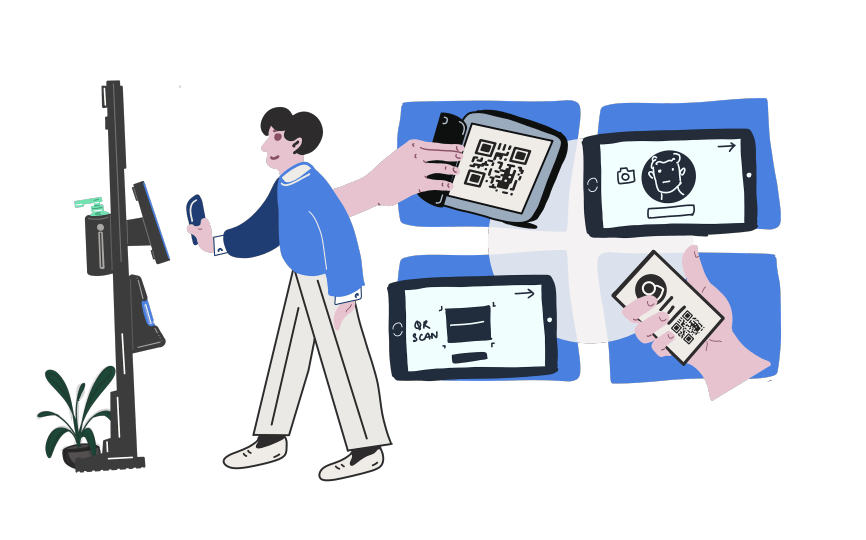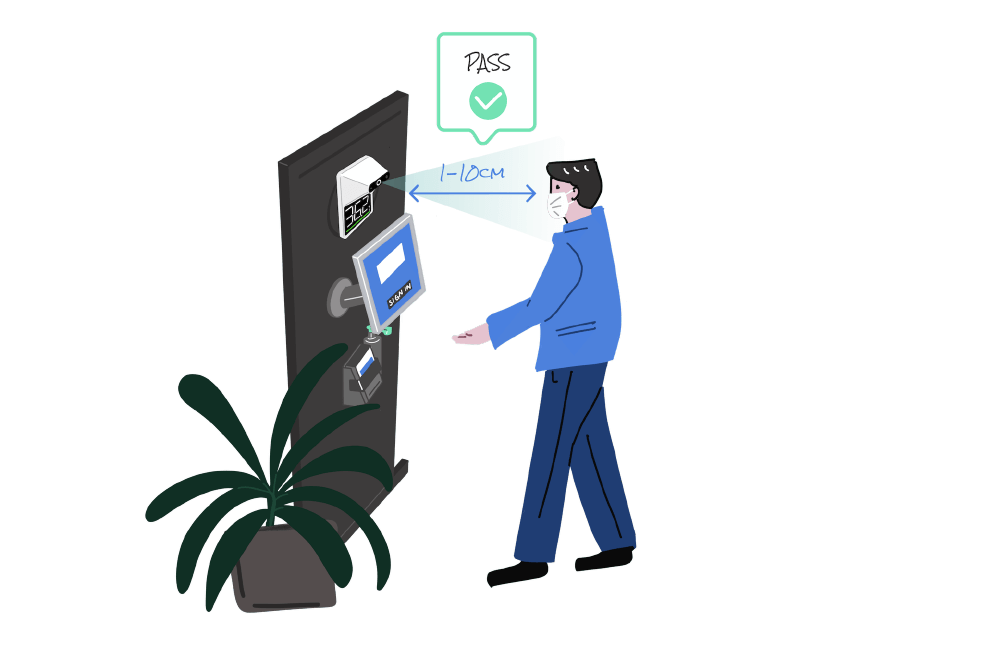 Your Thermal Temperature Scanner uses the latest Bluetooth technology and can be connected to your iPad Kiosks just like the badge printer. This allows you to add the temperature check to your visitor sign-in workflows.
Record temperatures instantly for your reports
Stay compliant with accurate record keeping
Display camera instructions on your iPad Kiosk screen
Show the temperature result on the iPad Kiosk
Instantly alert staff when temperatures are unsafe
Unlock workplace efficiency and gain insights with advanced reporting and analytics. Seamlessly integrate and make data-driven decisions.
Enhanced security: Proactively detect threats and optimize security measures with comprehensive visitor behavior analysis.

Operational efficiency: Streamline workflows, allocate staff effectively, and identify peak periods through visitor data analysis.

Improved visitor experiences: Personalize interactions based on preferences and feedback, enhancing satisfaction and loyalty.

Actionable insights: Leverage data to make informed decisions and drive continuous improvement.

Optimize resource allocation: Utilize analytics to allocate resources efficiently and improve operational productivity.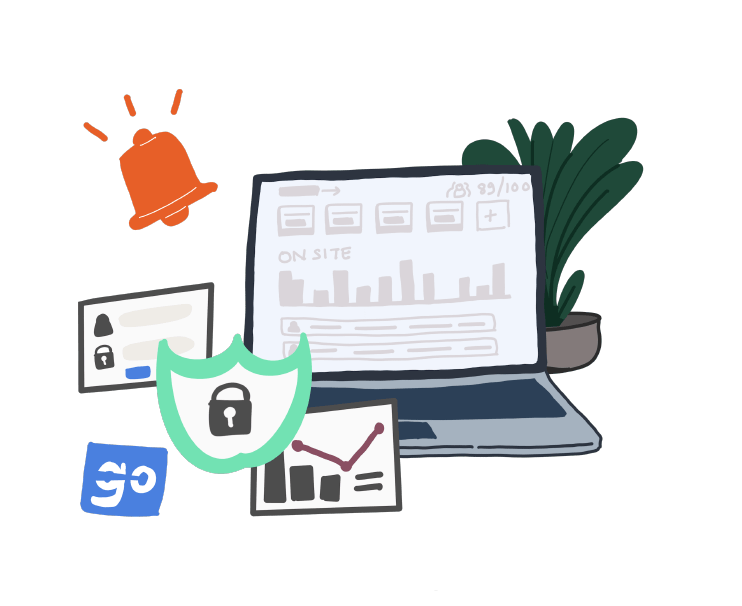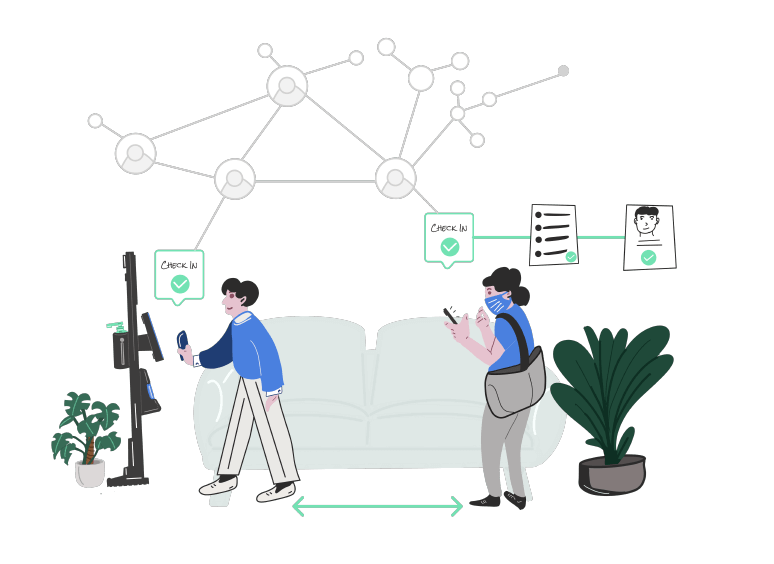 Ask your workers to submit vaccination certifications and see their status in live and historical reports. Teamgo can request and store documents in the users records so you have access to important data when you need it.
Send vaccination document requests to your Teamgo users
Ask employees to complete forms anytime you send them and request their supporting documents
View live records of current vaccinations when documents are submitted
Notify employees when documents are expiring or have expired
Display alerts on sign in Kiosks if documents are due or expired
Support COVID19 policies and compliance objetives
Limit the number of people allowed to sign-in across your workplace locations to stay safe and compliant. 
Safety and Compliance: Control sign-in capacity across multiple workplace locations to ensure safety and compliance.

Live Tracking: Monitor real-time sign-in numbers for accurate records and occupancy management.

Instant Updates: Receive immediate notifications and updates on capacity limits to maintain a safe environment.

Visitor Awareness: Display capacity status on kiosks to inform visitors when the facility is at full capacity.

Health Policy Support: Align with health policies and compliance objectives for a secure and compliant workplace.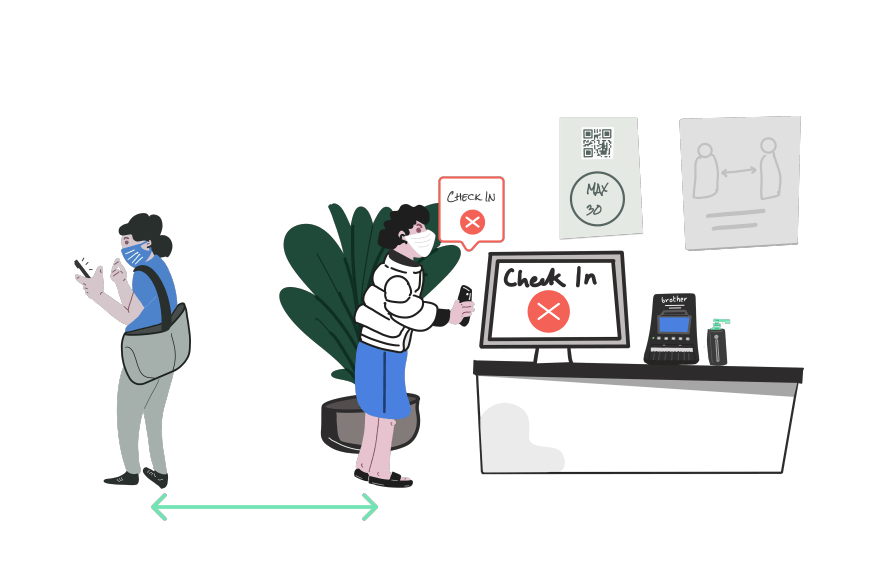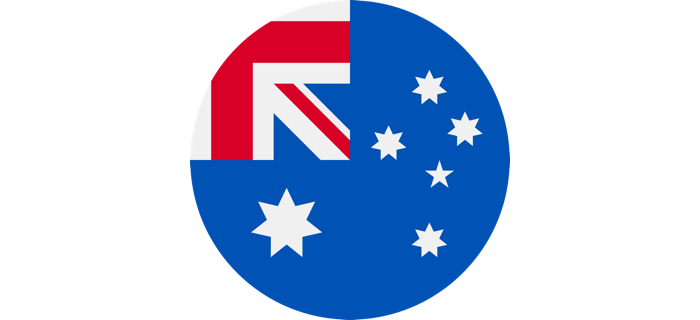 Australian Company
Proudly Australian technology company specialising in Visitor Management software and applications.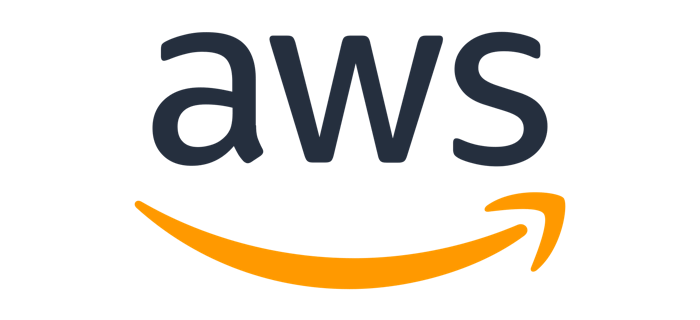 Amazon Web Services
You expect the best and we rely on the best with cloud hosting and security provided by Amazon AWS Australia.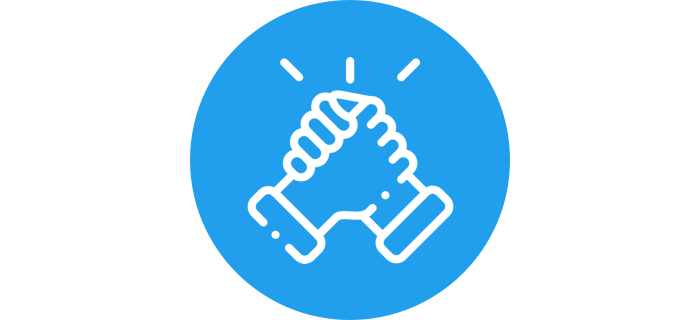 Fanatical Support
24/7 support available and experienced account managers on standby - we provide hands on customer assistance.
See how Teamgo performs for your workplace
Try our Essential plan FREE for 30 days – no payment or credit card needed.